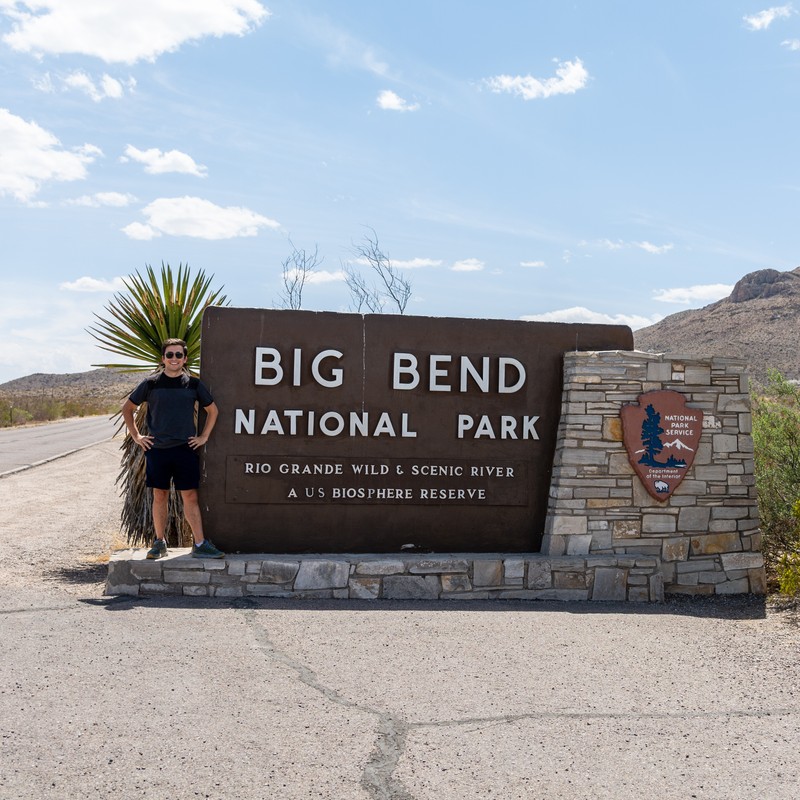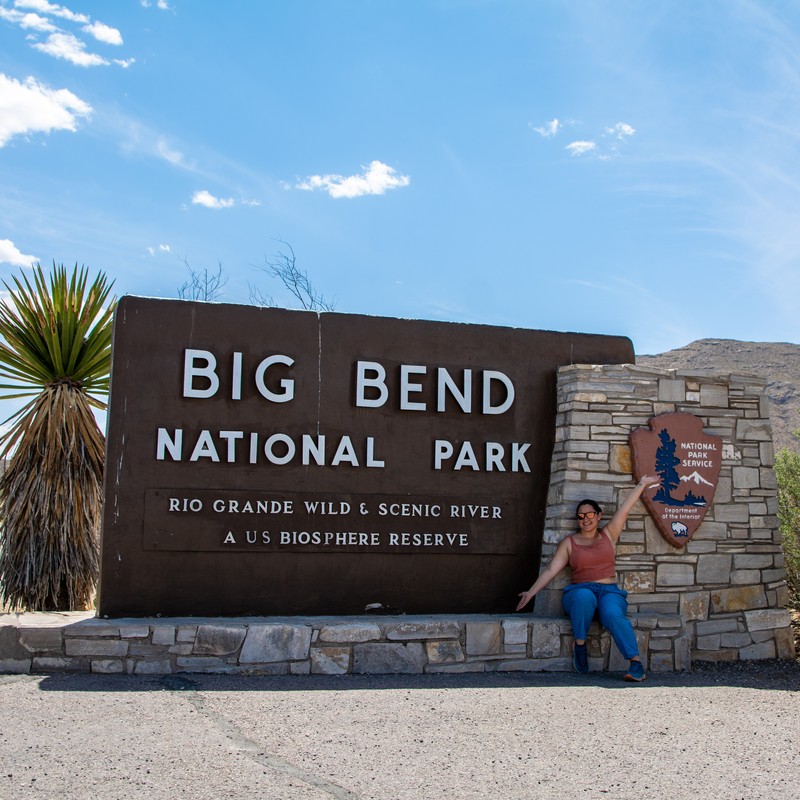 The north entrance has no buildings or people for at least an hour each way. Too lazy to get the tripod, we took each others picture.
We finally made it to our first national park of this journey. Thankfully, we made it in one piece and still with an RV. Right?
The drive from del Rio to Big Bend was more of the same flatness. Just hours upon hours of driving through a giant valley with no towns, rest stops, or anything. Just 1-2 border patrol stops, which something must have been going on because we passed at least 40 official vehicles. We got gas at the only gas station for three hours, and they charged us accordingly.
As we finally began to approach Big Bend, you could start to see a lot of impressive peaks in plateaus and river valleys. Once we got to the campsite, we were pleasantly surprised with full hookups and a very well-maintained area almost touching the national park.
We realized this was the first national park we had taken the big RV to! It's very nice being so close to the park entrance. With the time zone change, after work hours, we still had plenty of light to go into the park and do a short hike or a scenic drive.
Which we totally did.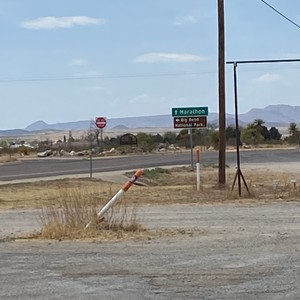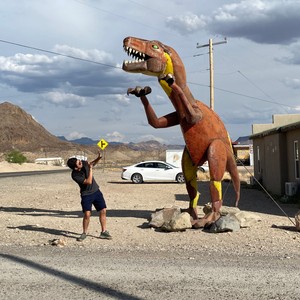 After work, we decided to explore the park's west side on our first day. We started by driving thru Old Maverick Road, which is one of the parks' improved dirt roads that cuts through various dry riverbeds. Our truck is 4x4 and had no major problem navigating the dirt road. It was around 14 miles of rough and washboard road, so we took it slow since we didn't want to risk breaking something on our only vehicle. It was interesting to see how the scenery changed throughout the desert back road.
The end of the drive put us at Santa Elena Canyon. The hike thru the canyon was relatively short but amazing. It takes you up one side of the canyon to the Mexican Border and back. It was stunning and had an almost Jurassic Park vibe as we walked through the bamboo and reeds along the river. There were these large boulders that we would find hidden in the bamboo, and it did feel like the Raptors were going to come from between the leaves and eat you.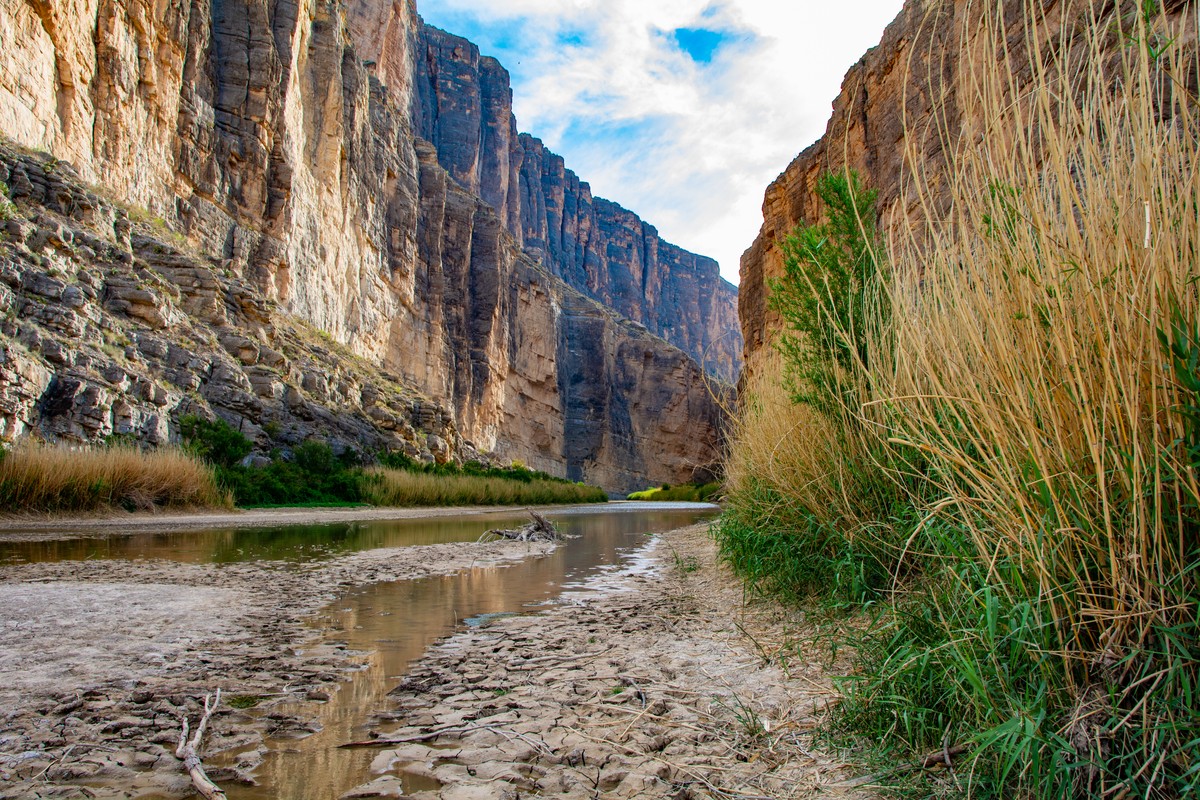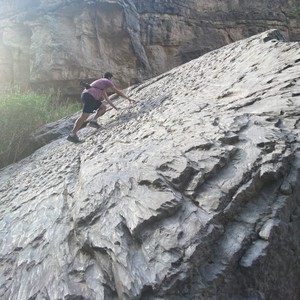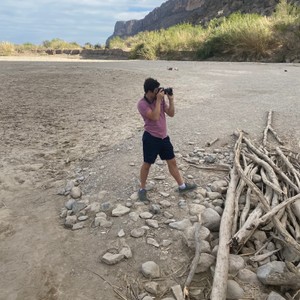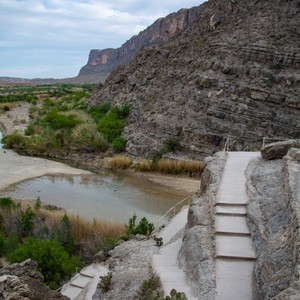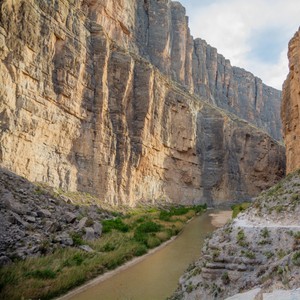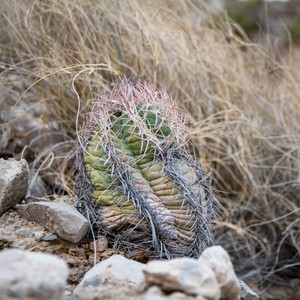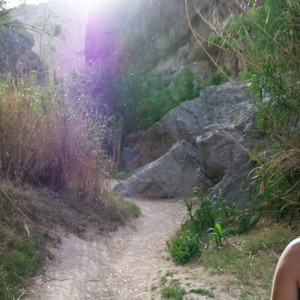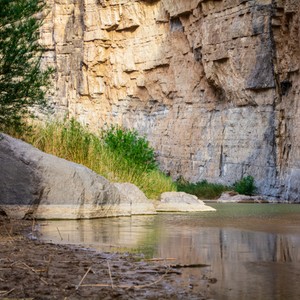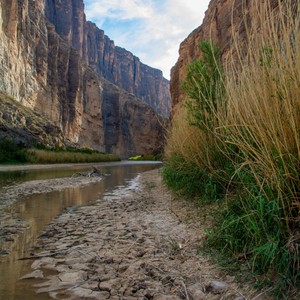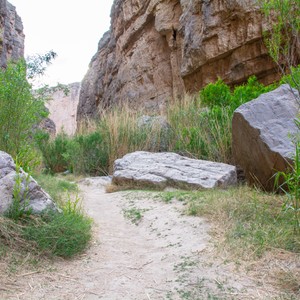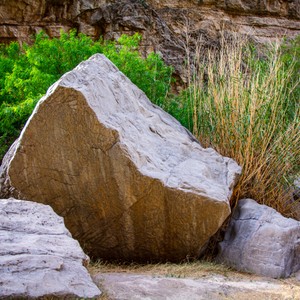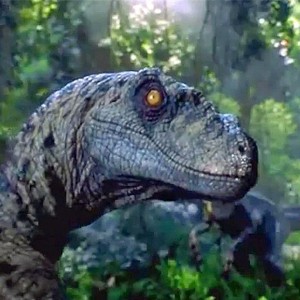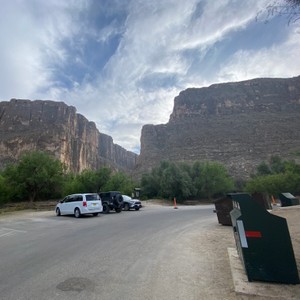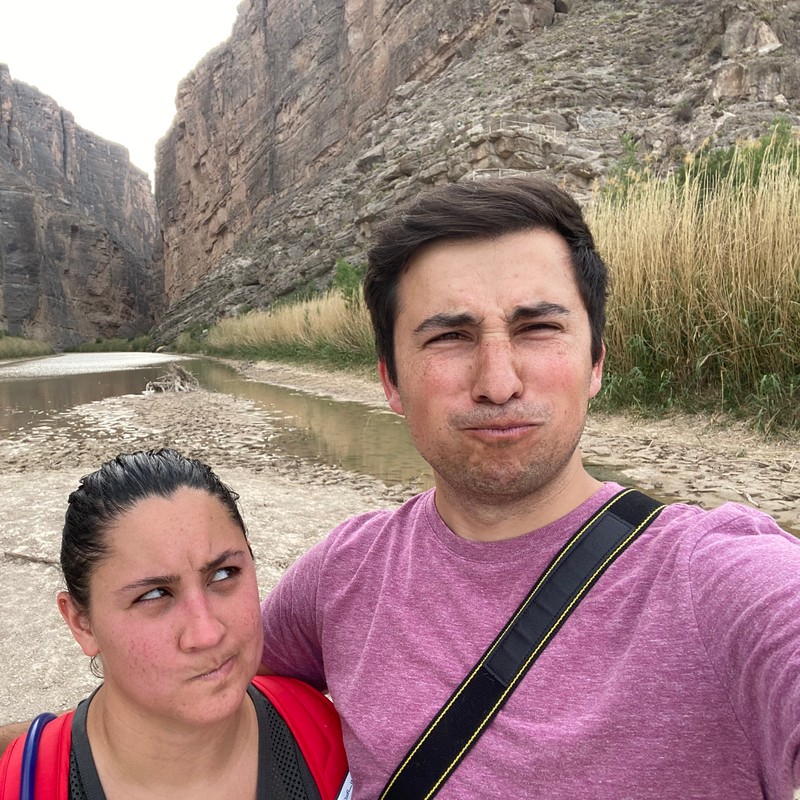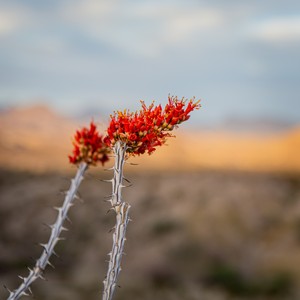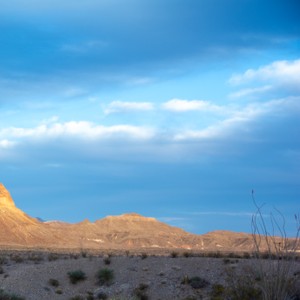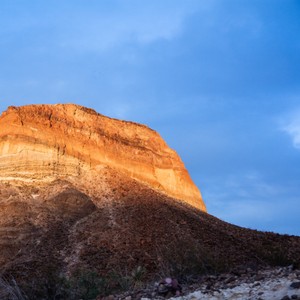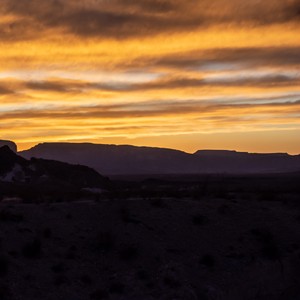 Throughout the rest of the week, we made a few more trips in the evening to explore the local area. The first town was Terlingua, though calling it a town is being pretty generous. There was a post office, food truck, and a tiny grocery store. The food truck was tasty. It turns out Terilingua hosts the International Chili Cook-Off once a year, and that specific truck has won multiple awards. We both ended up eating there every other day.
Next, we drove to Lajitas. The small town has a golf resort with a built-up boardwalk and more touristy stuff to check out. It was charming. Hard to imagine they can put much water on the grass out here.
Our last stop was the entrance of Big Bend Ranch State Park and an abandoned movie set. From what we could see, the state park is worth a visit all on its own, but work forces us to pick and choose. On the movie set, you could easily stick your foot into the Rio Grande and say you have crossed over to Mexico, because why not?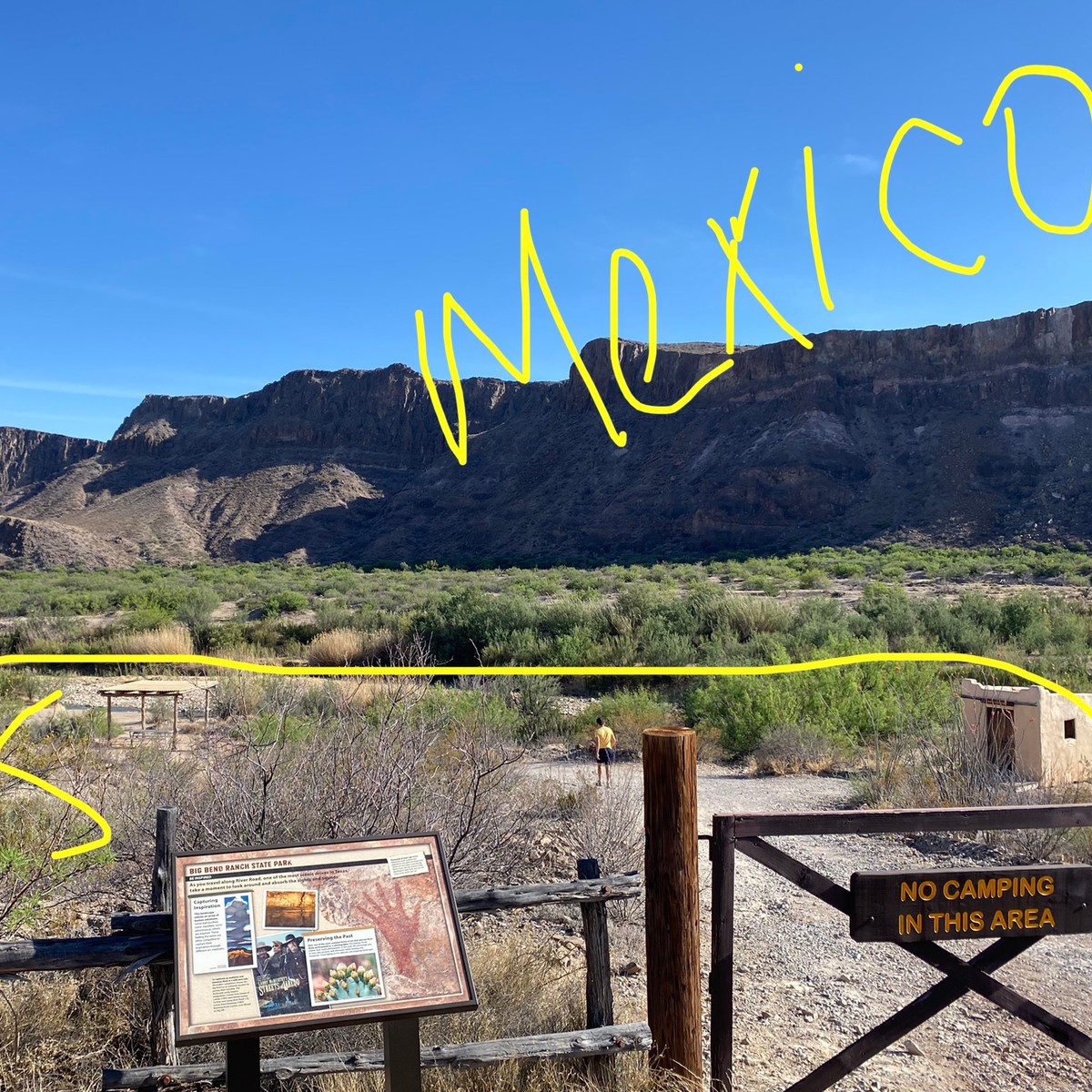 Because our stay in the area was short, we took Thursday and Friday off work to dedicate more time to exploring Big Bend.
Thursday, we decided on a 4.8-mile hike called Lost Mine Trail. This hike would allow us to wander around the center part of the park, which we had yet to visit. The trail was a bit challenging but a great experience. We even got to enjoy a slight breeze on our way down.
With our hike for the day done, we drove a bit more into the park's center to the Chisos Basin Visitor Center area. The basin is where the park's main campground is, making it the most touristy. However, it gave a bit of a different vibe since it was one of the only areas where you could see some lovely green trees. Of course, with so many people around, we ran into some wildlife searching for food anyone dropped. The roadrunner kept running thru the parking lot and allowed us to get a close look at it. We had seen others throughout the park but not THAT close.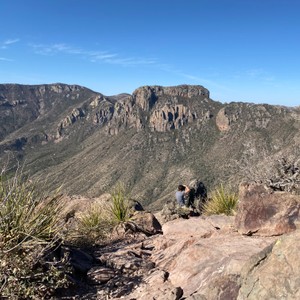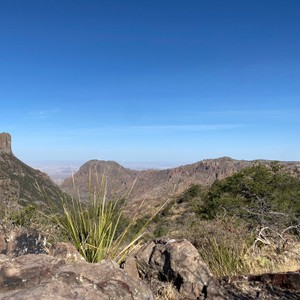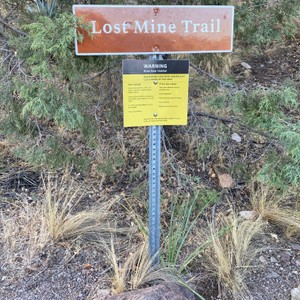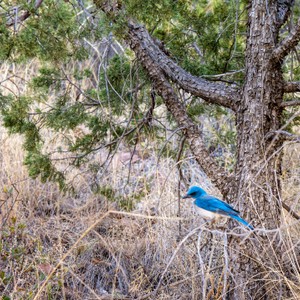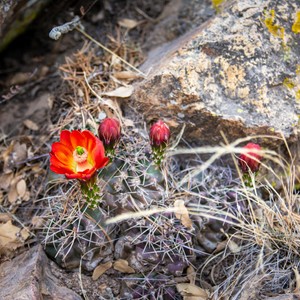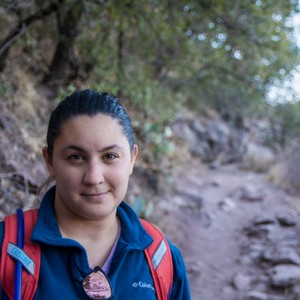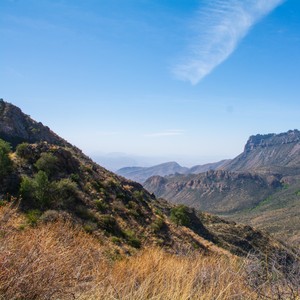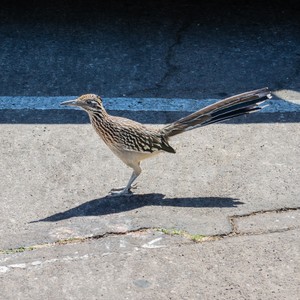 Friday, we decided to hike one of the more recognized trails of the park called Balanced Rock. The trailhead was down a dirt/gravel road called Grapevine Hills Road, which became less well maintained the further down you went. We got to some steep rocky parts that bumped us out of our seats at one point. We stopped at the end to watch as a hatchback tried to follow us. They were a lot more cautious, and they managed to zigzag down.
Once on the trail, we wondered where everyone else could be. It's a well-known trail, but I guess it's not busy early on a Friday morning. Walking down an empty path in the mountains kept us on our toes. We made sure there weren't any animals stalking us from between the rocks. We didn't want to encounter any wildlife, especially a mountain lion or javelina. We scrambled up multiple boulders near the trail's end and climbed to the top where the Balanced Rock is.
We hung out and enjoyed the view for a while before heading back and finally running into other hikers. Guess everyone had decided to start their morning a bit later than us.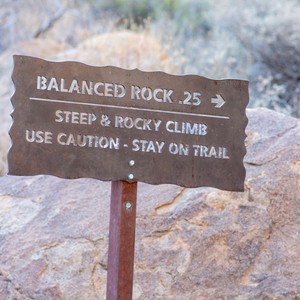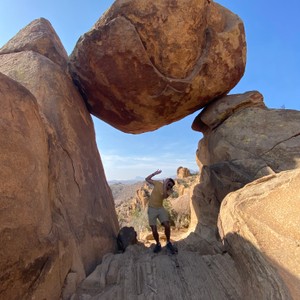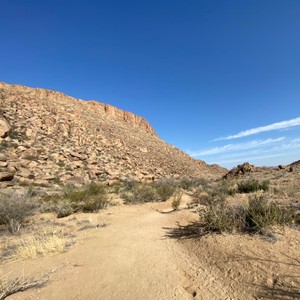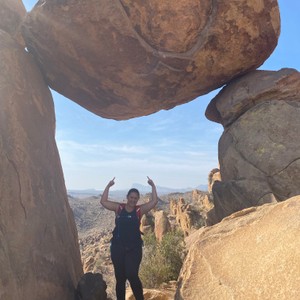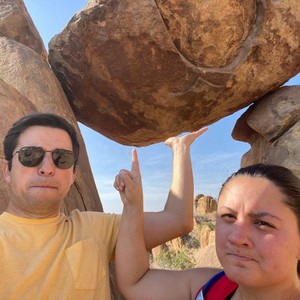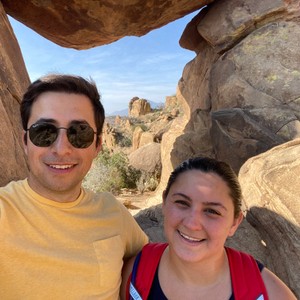 As our time at the park came to an end on Saturday, all we can say is Big Bend might have the most arduous drive parks, but it is definitely worth the visit. You will not be disappointed with the parts' diverse scenery and hikes.
And off we are to our second and third national parks!