We are starting to make some real progress going north now! We heard about Escalante from friends who've been through the area last year. It's about an hour away from Bryce Canyon and has a ton of off-road and slot canyons nearby.
We're staying here for two weeks at Escalante Cabins & RV Park, so there's plenty of time to see all kinds of things and take it slow. We had to balance short drives with short stays and long drives with extended stays. I think the jury is still out on which way is better, but I'm going to enjoy sitting still and relaxing for two weeks. The weather is nice but gets a bit too windy sometimes, so sitting outside is not an option.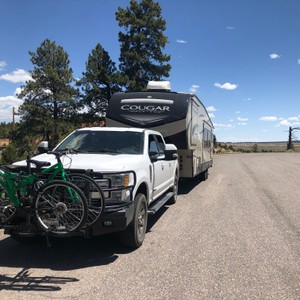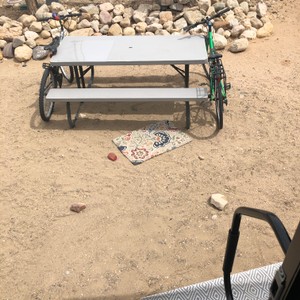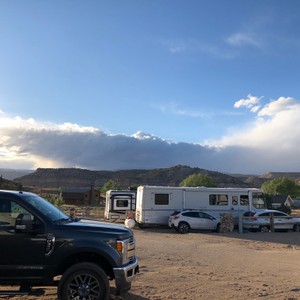 On the first weekend, we used the extra time we had to drive back the way we came to see Bryce Canyon, National Park. Before reaching the park, right off the main road, we stopped at Mossy Cave. It was a nice short hike thru rock formations to see some small waterfalls and the cave.
Once we got to the park, we were surprised by the number of people. Since Justin has been to Bryce Canyon, the crowds have gotten much thicker in the last 5 to 10 years. Thankfully it looks like the national park system has set up a well-run shuttle system, so getting around and finding parking was pretty easy.
Unlike the Grand Canyon, this time, we hiked down off the rim. I think seeing the hoodoos from the bottom is the only proper way to see them.
There's lots of zigzagging and switchbacks to get down thru the Navajo Loop Trail, but once you're down there, you are lost in a maze of towering rock spires. The hike back up thru the Queen Garden Trail was just as breathtaking with Thor's Hammer in the distance.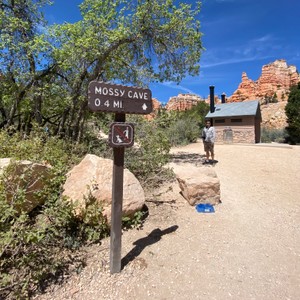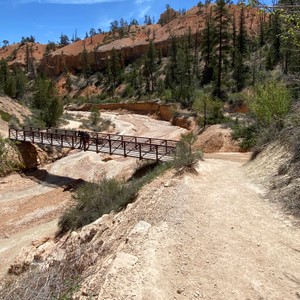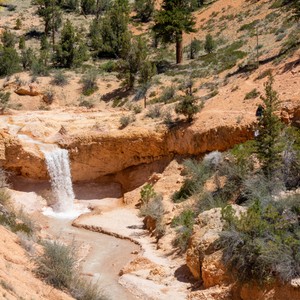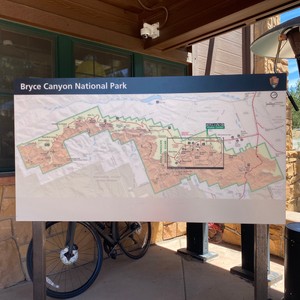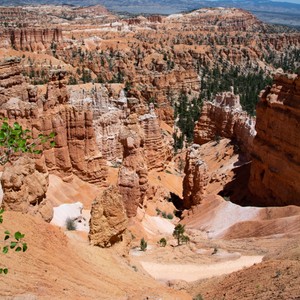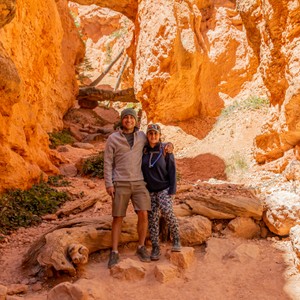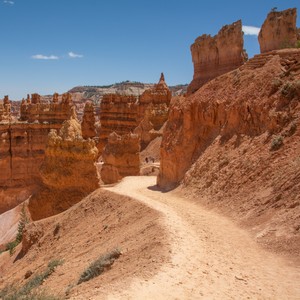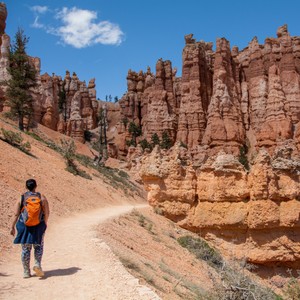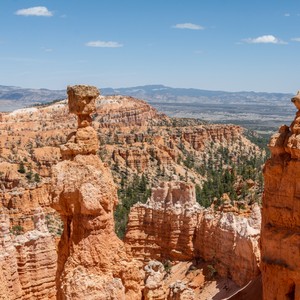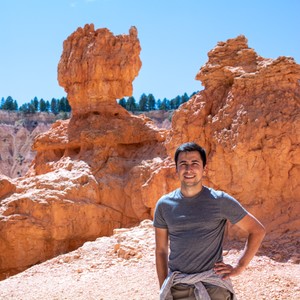 The next day in Escalante, we took our only vehicle and drove down Hole-In-The-Rock road at the Grand Staircase - Escalante National Monument. The road is about 50 miles long, 40 of which are dirt and covered in sand or large rocks.
Towards the beginning of the road, there are a lot of good boondocking spots. If we had known what it was like before we got here, we probably would've tried boondocking for a week or two. We would have easily found a spot and turned with our 35-foot fifth wheel.
We only drove to the Zebra Slot canyon about 15 miles down the road. Then, after a few-mile hike, we got to the canyon itself. As the name says, it had different stripes of colors going down the sides and was covered in little round balls. We spent half of the hike just trying to figure out what they were made of.
We also learned that we both feel claustrophobic quickly once we start hiking into one of those canyons. Around the time the sides of my shoe could touch both sides of the canyon simultaneously, I kept imagining that 72 hours book. Knowing Melissa couldn't lift me if I got wedged, I decided to keep my distance.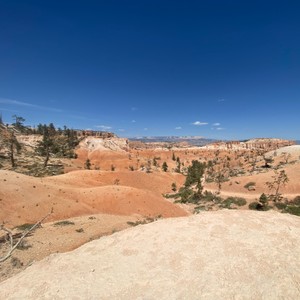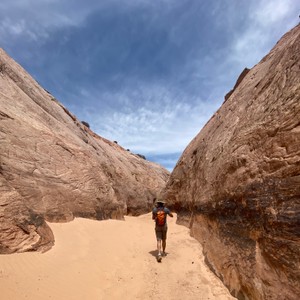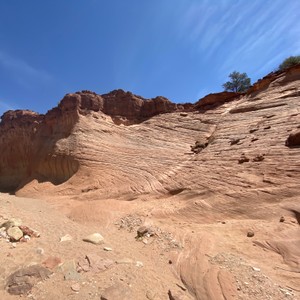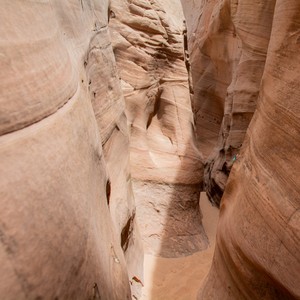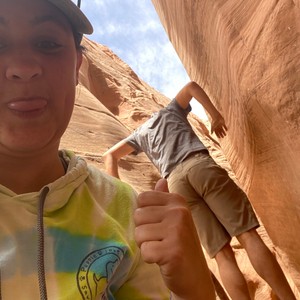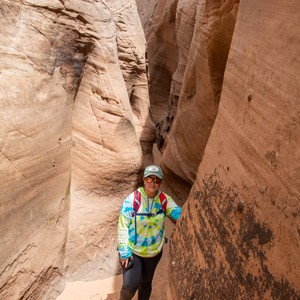 At the end of our stay in Escalante, we drove a bit north to a town called Boulder, UT. Here we drove down Burr Trail Road. The drive was incredible. Both sides of the road allowed for views of the canyon's rock walls and allowed us to stop at two smaller canyons. Long Canyon was an easy-to-walk slot canyon, while Singing Canyon allowed for some exciting sounds echoing off the canyon walls.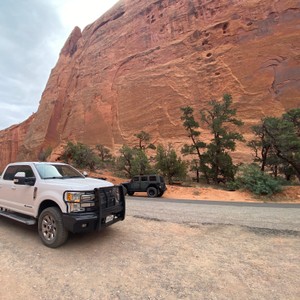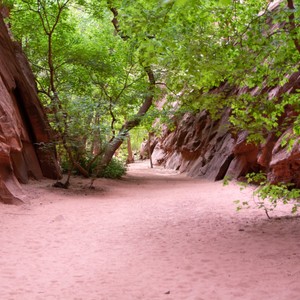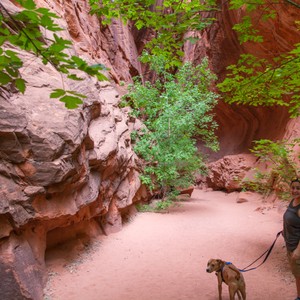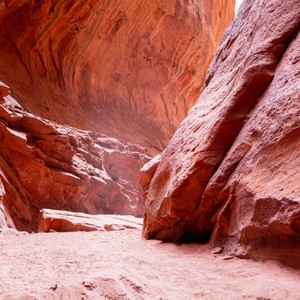 That same day we made a short stop at Devil's Garden on our way back to the campground. We had 0 expectations for this stop, but it turned out to be a great location. It was a great spot to walk all over the rock formations and even take some nice pictures. Even the dogs had a blast! Barely any people at this location gave them a chance to be off leash a bit and burn some energy.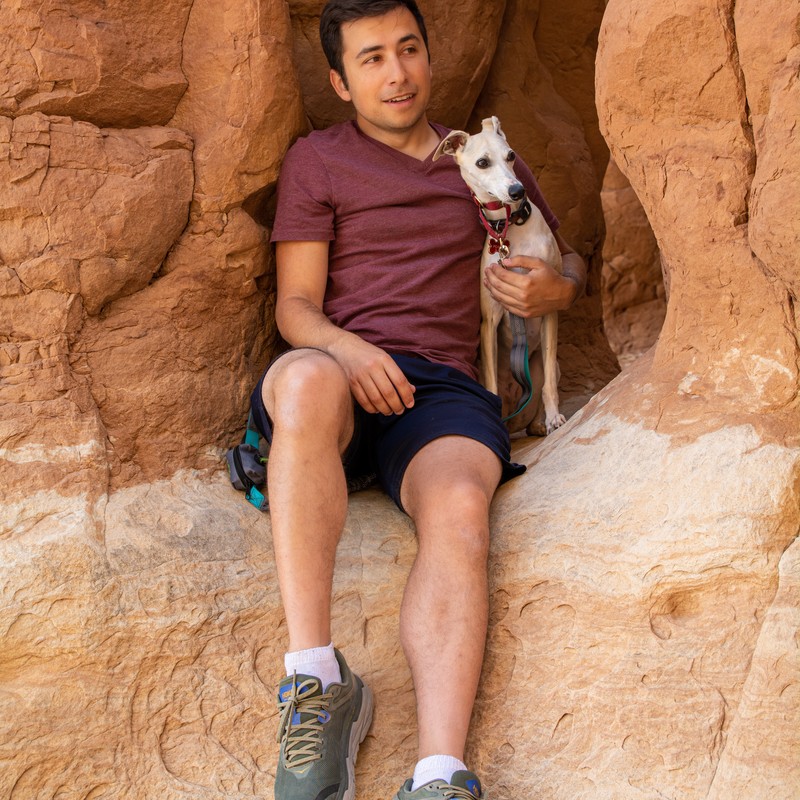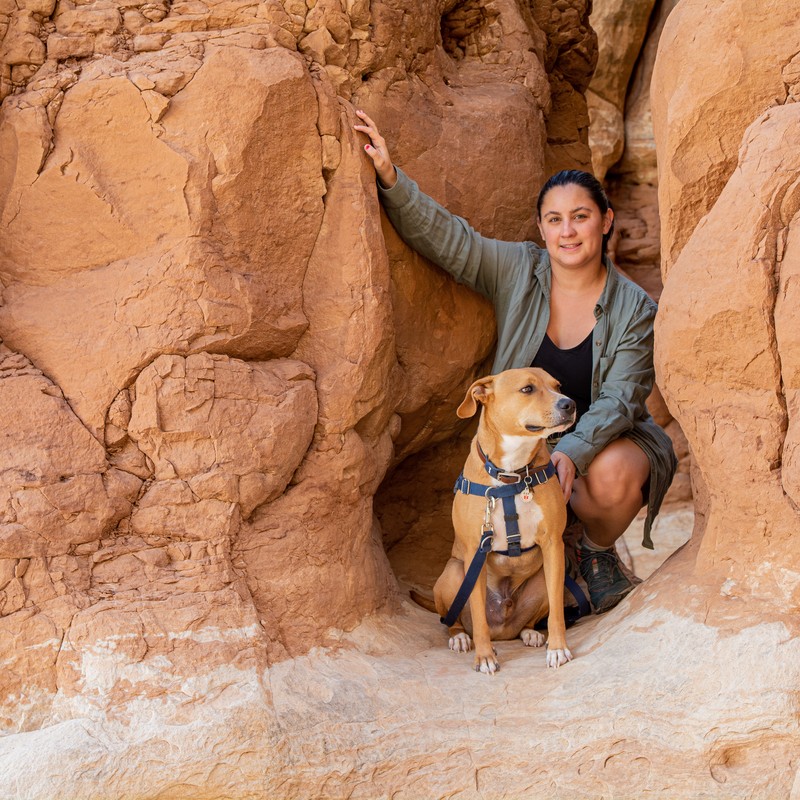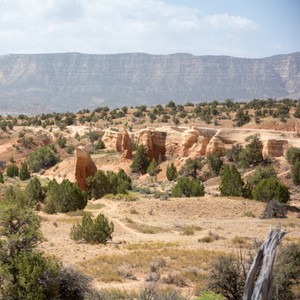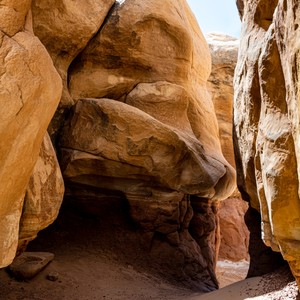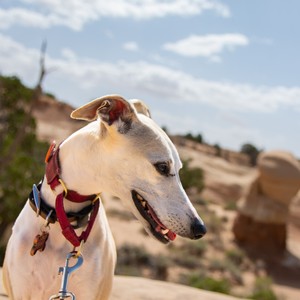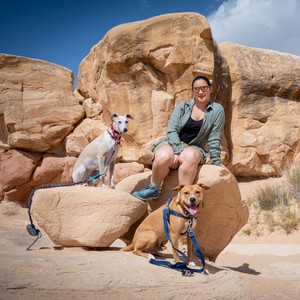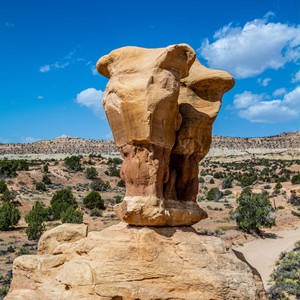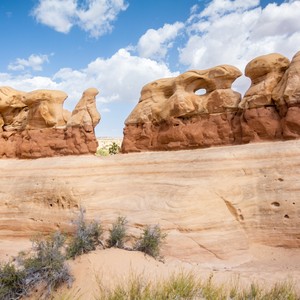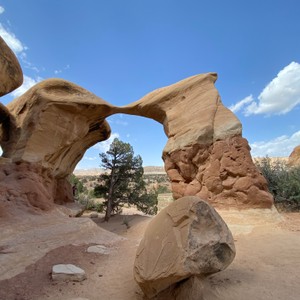 The further down the Hole-in-the-Rock road you go the more interesting it gets!
After two weeks in Escalante, it was time for us to head north. To get to Torrey, we had to cross a stretch of road that was so challenging it had its name, the Hogsback.
So it started with 14% grade roads, with sharp turns and sheer cliffs on both sides. We were worried the truck wouldn't be able to make it to the top without overheating or scraping the side of the RV, but we took it slow, and thankfully we were not overloaded with stuff.
When we got to the top, the sheer cliffs started simultaneously on both sides of the road. The road zigzagged across the top fragile mountain, and there wasn't even room for a curb on the sides of the road. We were super thankful that it was not a windy day. I can only imagine how many RVs get blown off the side of the cliff up there.

Torrey was our stop for Capital Reef National Park. Unfortunately, this area's stuff accessible from a paved road is very limited. So the first day we had available, we drove through all the paved areas and did a short hike to Hickman's Bridge.
When we got back, we decided that instead of taking our truck on even more dirt roads where we didn't know what we were doing, we should hire a guide just once.
The guide was super helpful and very friendly. He showed us around some of the more challenging to get to monuments in the backcountry. On our own, we would not have been brave enough to go 65 down dirt roads and river beds in the middle of nowhere, so I think it was worth it.
Thru this drive, we saw some exciting locations like Glass Mountain, Temple of the Sun & Moon, and Cathedral Valley.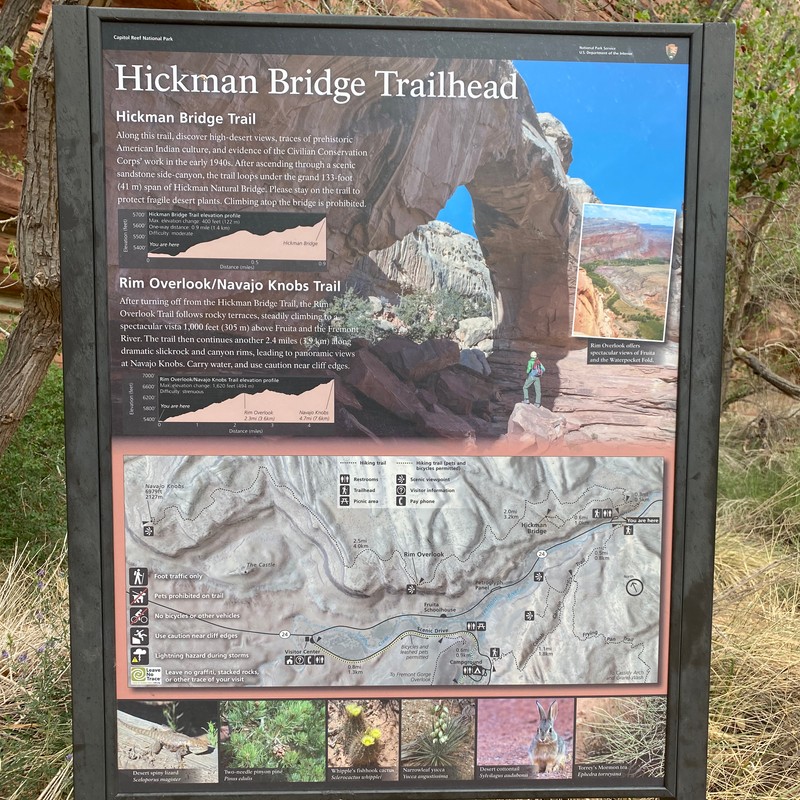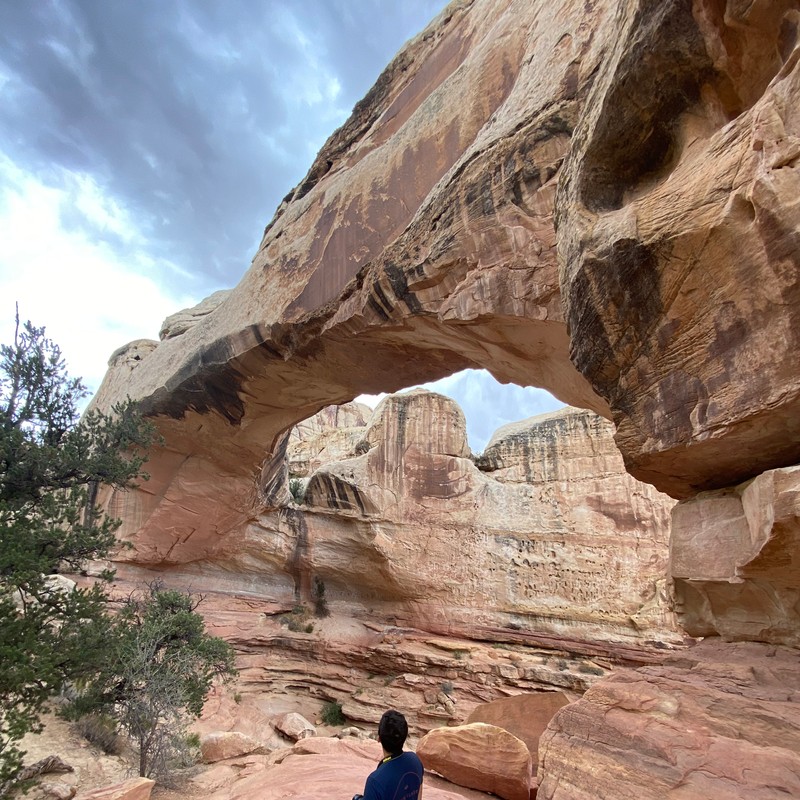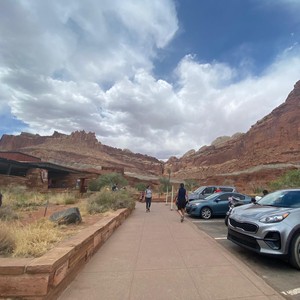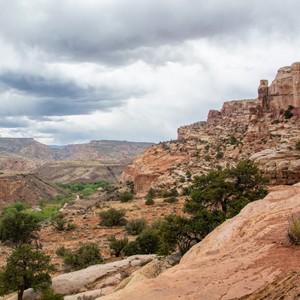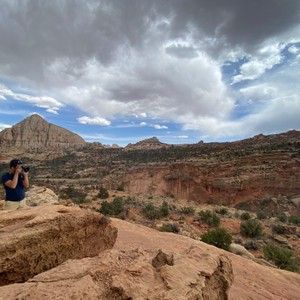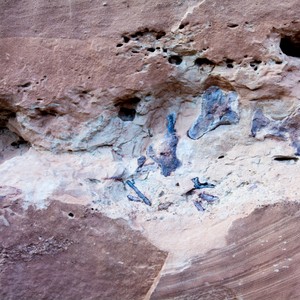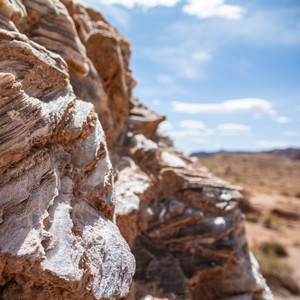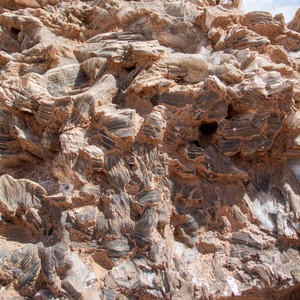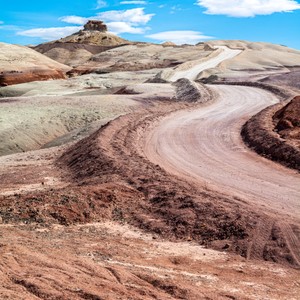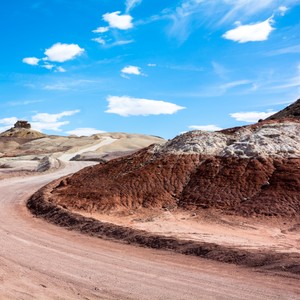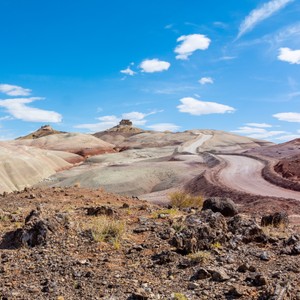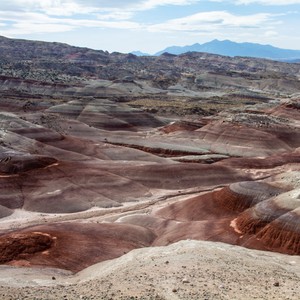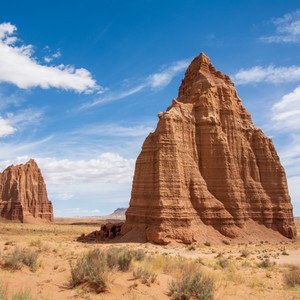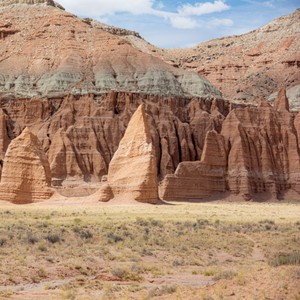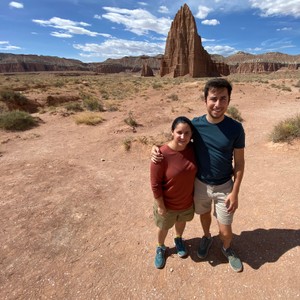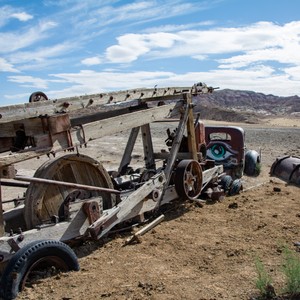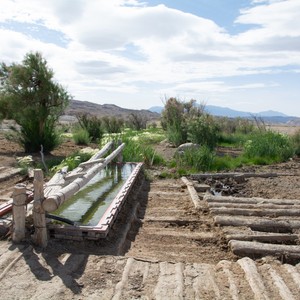 Lots of cool spots but you'll have to get off the pavement.